It's handy to predefine some filter sets and save them as Shortcuts so you and your colleagues can follow the same data easily. Saved Shortcuts are accessible in one click from the Dashboard and Reports page.
Note that Shortcuts were formerly named QuickSignals!
Create a new Shortcut with these easy steps (video below)

Start from the Reports page.
If your organization uses HappySignals for multiple Service Areas (e.g. IT, HR, Finance), first select the relevant one from the Service Area Dropdown in the top left corner. This will filter the data accordingly across the platform.
Select the Measurement Area (e.g. Services for ticket-based data, Enterprise Applications, etc).
Add data filters using Search or by clicking on the titles directly on the platform.
When you have added all your desired filters to the set, click "Save".
Give your Shortcut a name and choose if you want it to be Private or Public.
Private Shortcuts are only visible to you, though others can still see it if you share a shortcut link with them. Public Shortcuts are visible to all HappySignals users in your organization.
Save and you're done!
Where to find your Shortcuts?
You can find all your Shortcuts, as well as (Public) Shortcuts created by other HappySignals users in your organization, in the lower half of the Dashboard or in the Shortcut menu on the Reports page (shown below).
Easily return to the predefined filter set and follow data for the area you're responsible for!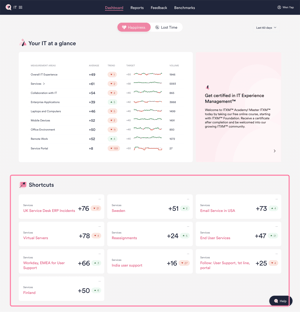 .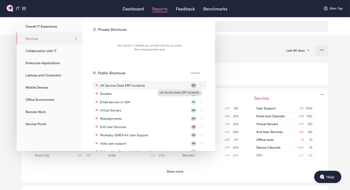 What else can you do with Shortcuts?
Get your colleagues to look at the same data by copying the Shortcut link and sharing it with your team.

Want to create a Live Screen and show the same data around the office on digital signages?

Copy the Shortcut filters to create a Live Screen.