Live Screens can be created via HappySignals Analytics Settings. You can select the Enterprise Classification, FIlters and Screens you want to use for your set.
Requires HappySignals Analytics Administrator level role.
To create a Live Screen do the following:
1) Go to settings and select "Live Screens".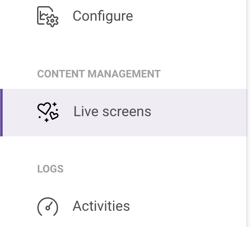 OR
Go to Dashboard and select the hearts icon on your Shortcuts. The filters of the Shortcuts are used as base of the new live screen!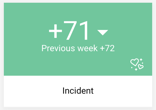 2) Select first the Enterprise Classification (like IT, HR etc. - note the selection presented depends on your data) you want and click "New Screen".

3) Add filters do create the data set you want to use for your screen, in the example we wanted to add United Kingdom as the country. You can always remove filters after insertion. To see the name of the data column the data comes from hover over the filter.
Note that the enterprise classification you selected in step 2 is presented as a "pill" in the filter search box. You cannot remove this filter.


4) Give the set a name, we named the screen set as "United Kingdom Offices" in the example.

5) You can also set the livescreen set you are creating to be Enabled or Disabled. By default the Live Screen is enabled meaning it can be accessed as soon as you have saved it with at least one slide selected. If you save without adding a screen, you are reminded that a screen is mandatory.

6) Add screens by dragging them from the righthand bar. A list of screens with some explanation can be seen here.

The order of the screens is the order you will see them in a Live Screen slideshow.
7) Some screens have settings that you can use to set the filter for on particular slide, set a message to be shown or select what data is shown with comment - if any.
8) After there is a title and at least one Live Screen slide selected you can save the set. You can see the URL to the Lice Screen in the Screen Link box. You can now copy the link by clicking the "Copy Link"-button and distribute the URL how ever you want.

If you want a new URL for your LiveScreen click "Reset Link" - the old link will seize to function.
Notes:
You can add as many Live Screen slides as you want.
You can add the same Live Screen slide as many times you want.
Questions? Comments? Chat or email support@happysignals.com