This release adds improved factor analysis tools, as well as new capabilities for data collection to enable advanced analytics.
Improved factor analysis tools
This release introduces a completely reworked section at the bottom of the Reports page for analyzing the factors selected by end-users in survey responses. The section includes:
Refreshed look and feel to align with the rest of the HappySignals Platform
Easier way to view open text feedback related to each factor. Click on the

number

of feedbacks in the overlay box to open up the Feedback page and read all related open text feedbacks.
Factor Benchmarks for easy comparison in one view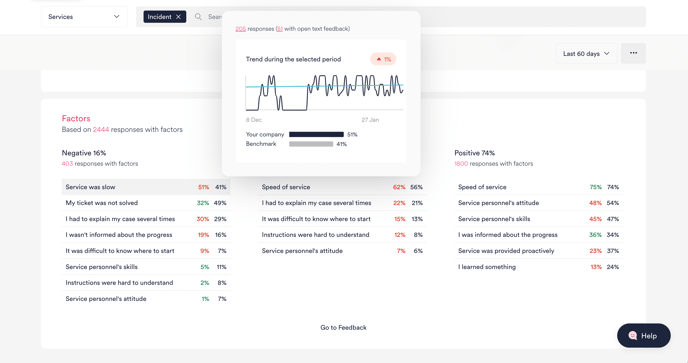 Support for collecting data about all surveys sent and the context of those surveys
HappySignals aims to provide more advanced analytics services to our customers, thus new optional functionalities are added to enable analysis. In this release, these functionalities are only added for ServiceNow (coming to more ITSM platforms in future).
HappySignals takes privacy concerns seriously, so these optional functionalities will only be activated if customers opt in.
Customers who opt in can benefit from response rate analysis and other analyses mentioned below. To opt in, ServiceNow admins can read this ServiceNow-specific release note for instructions.
Added support for collecting data for response rate and ticket volume analysis for customers that opt into this functionality in their ITSM tool.
Added support for collecting anonymized hashed end-user identifiers for customers that opt into this functionality in their ITSM tool. This would enable customers to, for example, understand how representative the response data they receive is of their whole end-user base.
Note: There is no way for HappySignals to identify an end-user from the anonymized hashed IDs collected.
Support for collecting process timestamps
Added support to enable process performance analysis (only for ServiceNow in this release)