This section is the most granular level of insight into why feedback was given, providing all the contextual data for each individual response. It allows you to read into what people have said in connection with the scores they have given.
On the Feedback page, you can see open text feedback and comments that your users have provided, in addition to a score out of 10. The default view shows feedback based on:
The selected service area (top left corner, next to the HappySignals heart)
The selected time period
Incidents
You can filter the visible feedback by:
Service Area
Incidents, Requests, or both (in ticket-based responses only)
Time period
Any saved shortcut, private or public
Tags (Idea, Highlight, Follow-up)

NB! In the new version, the number of feedback visible per tag type depends on the selected time period, not on the total number of tagged feedbacks in the database.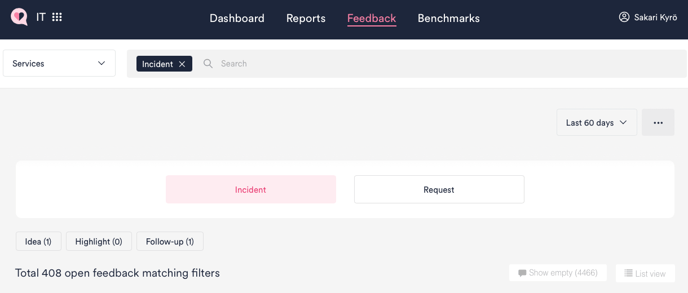 Similar to the reports page you can search and add filters of your choice to further drill into your data. Note that any filters selected in the reports page will carry over to the feedback page too.
Tagging feedback will allow you to categorize feedbacks into action points where a follow-up is needed or a follow-up has been completed. If you wish to create more tags feel free to get in touch with your Customer Success Manager - they will gladly help you with this matter.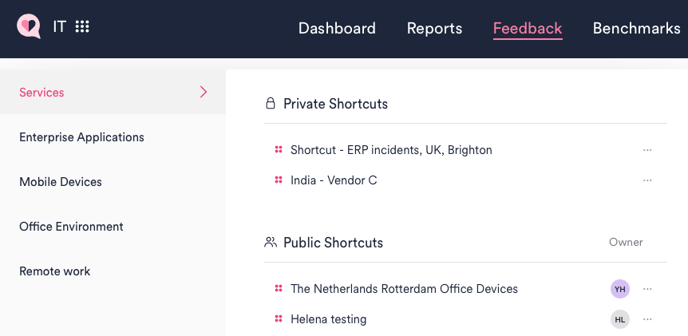 You tag feedback by clicking the icon on the top right corner of the feedback card.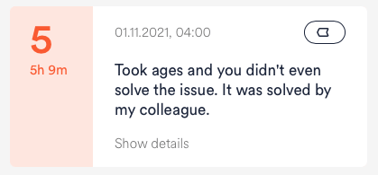 Which opens a view where the tag is selected.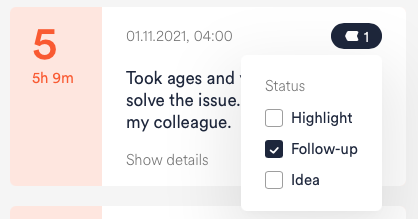 You can also filter the feedback by a range of scores e.g. Negative 0-6, Neutral 7-8 or Positive 9-10, in order to choose to show feedback for a specific score.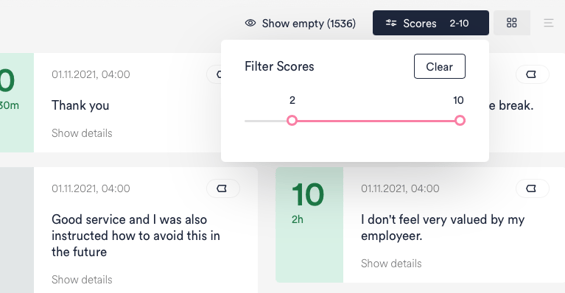 Change your page layout by either selecting "List view" or "Grid view".
Download data
Download a local CSV copy of your filtered data in the top right corner. Make sure you've selected all the filters you need to make the download meaningful to you.