Please see below new features and changes to existing ones for HappySignals Experience Management Platform.
Edit QuickSignals
No more need to create new QuickSignals when you want to add or remove a filters or adjust the visibility of an existing QuickSignal.

Live Screen Test mode
Test your Live Screens to see if some slides do not have enough data.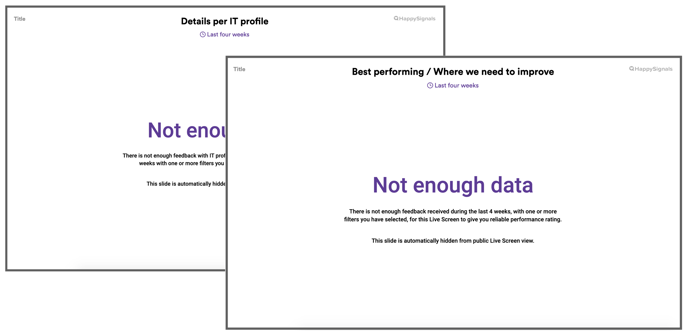 Set up SSO as self-service
No more need to remember HappySignals password or manage users in multiple tools. If your organisation has SSO capability, you can set up the SSO for HappySignals in no time by using our self-service tools for admins.

Minor Tweaks and Fixes
More information in Activity log
Admins can now see more activity types in Settings / Activity log such as login, logout, password change, user details and data download activities
Share QuickSignal
You can now share your QuickSignals even faster just by clicking "Copy URL" from your QuickSignal menu in Dashboard view. By sending a QuickSignal URL to anyone with access to HappySignals XMP you can easily share latest results for selected services, locations, channels etc.
Enable "ap4" field made visible in Report page
The "ap4" field (by default used to send "time worked field in SN") can now be used to import any data and can be set visible to Reports page.
Technical enhancement
Improvements in transferring setting more easily between instances.