Emails sent out by ITSM systems can be quite technical and contain irrelevant information for the recipient, which often leads them to be ignored. Here are a few tips to make your notifications stand out and get more feedback.
Notification design and language
Our experience shows that actionable and personal ticket resolution emails increase your response rates immediately. The design of the notification email should begin with the email subject line.
Rephrasing your subject line to a more actionable wording leads end-users to think they need to complete an action in order for their request to be solved and completed. Also removing auto-generated numbers and making it a little more personal, helps to make the email more receptive and approachable. A good subject line in an incident notification could be:
Please accept the resolution to your case "My laptop is stuck at updating the operating system, could you help?"
Next, you should focus on the content of the notification. We suggest that the notification should feel personal for the recipient. You should try using a language that is familiar to the end-user by avoiding ITSM and ITIL terminology such as "incident" or "requested item". It should look and feel like it was written by a person, not generated by an automatic system.
Further, try to avoid using ticket numbers and other unique IDs, such as ITSM-543057699834. They don't provide any description or insight as to what the ticket was about and rather discouraged end-users immediately when received.
Leave any unnecessary technical information out from the email, unless you want or rather need to provide an incident/request summary, we recommend placing the in information at the email end.
Last but not least, we suggest you sign your notifications "personally" instead of just signing them as the "IT department" or "Service Desk". By adding the agent's name and title, the email gets a more personal and human touch. Hence, end-users perceive and feel their issues are solved by a person and not an automated machine. The person who signs the email could for example be the service owner.
Below you can find an example notification of an incident resolution with the HappySignals service experience measurement included: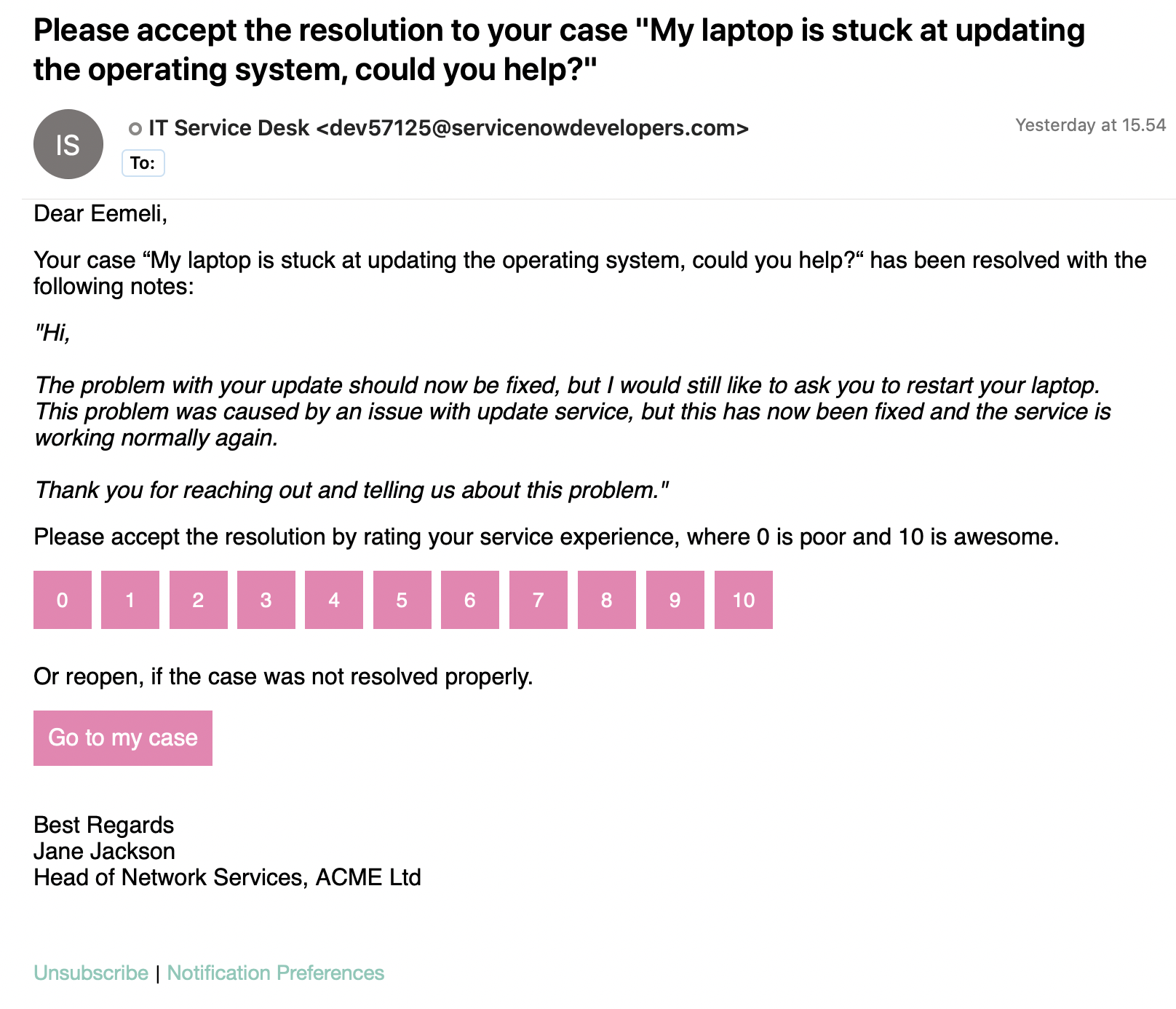 Notification workflow
Besides notification design and language used, notification workflow plays a key part in improving your feedback response rates. Typically the notifications workflows for incidents and request can look something like in the image below.

These workflows tend to result in a situation where the recipients get overwhelmed with too many notifications and begin to ignore them. Further, feedback is asked only several days after the actual resolution or closure of the ticket, which usually means that the recipient is not that invested in the subject any more and is less likely to provide feedback on their experience.
We suggest that your notification workflow should look more like the image below.

In this workflow, the HappySignals feedback buttons are included in the resolution notification for incidents and in the closure notification for requests. This way the recipient's experience feedback is asked, while the subject is still fresh on their mind.
Additionally, for incidents, we suggest that you allow recipients to accept the incident resolutions by providing feedback through HappySignals. This allows for an integral part of the resolution process and will likely result in greatly increased feedback rates. Any automated closure processes or the resolution rejection by the recipient are not affected by this.
Naturally, there is no one size fits all when talking about notifications, but we hope that these tips provide some food for thought and can provide some guidance on your way to designing actionable and personal notifications that will increase the amount of feedback you get from your employees.