The following shows you how to set the 4 topmost filters for Analytics Reports Page.
Requires HappySignals Analytics Administrator level role.
1) In Settings navigate to Filters.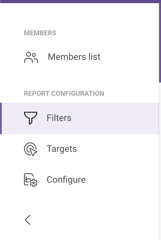 2) In Filters you can select top 4 filters by selecting first the Enterprise Classification whose filters you want to modify. These classes are the same which you send from your ticketing systems - e.g. IT is typically It Incidents classification. All selections you do with filters will be saved for the selected Enterprise Classification.

3) Select now the filters you want to use for the selected Enterprise Classification. These selections are reflected in the Reports page top filters.
The content of each title is shown underneath the drop downs so that you can easily verify what you select.

If you change the selection you get a Save Changes button at the bottom of the screen. Clicking button saves your changes for each Enterprise Classification and Reports page starts to reflect your selection immediately. You can verify this by selecting Reports from the main navigation.
Questions? Comments? Chat or email support@happysignals.com