Users List lists all of your current active users. You can set user roles here, delete members and do other actions like search.
Requires HappySignals Analytics Administrator level role.
Set User Role
User roles control access to administrative settings, authorize a user to set milestones and create Shortcuts in the reporting view of the HappySignals platform.
| | | | |
| --- | --- | --- | --- |
| | Observer | Member | Administrator |
| Access to all Administrative Settings | No | No | Yes |
| Access to HappySignals platform | Yes | Yes | Yes |
| Can create milestones | No | Yes | Yes |
| Can create private Shortcuts | Yes | Yes | Yes |
| Can create public Shortcuts | No | Yes | Yes |
| Can tag Feedback | No | Yes | Yes |
| Can create custom tags | No | No | Yes |

To set a members role do the following:
1) Navigate to the Users List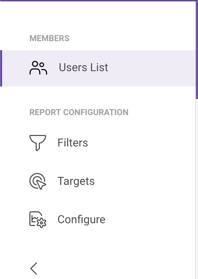 2) Find the member you want to modify by entering the users email or name into the search box.

The member is highlighted and you can set the role to any of the above mentioned by clicking on the dropdown menu in the "Role" column. Note that you can also click on "Show filters" to see other search options.
Selecting a role is automatically saved once you select one.
Remove Membership
Find the user whose membership you want to delete by searching as you did in the set user role functionality. Once you find the member, do the following:
1) Select the three dots on the rightmost column in the member list
2) Select "Remove user"

3) Confirm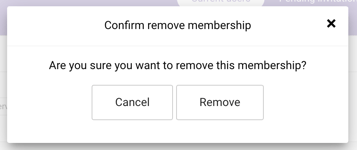 Note: Removing a user membership does not delete the user but all access to the customer instance in question is removed. If the user is to be allowed to enter the customers instance a new membership invitation must be sent!
Download User Data
You can download data by pressing the "Download" button. The download respects your selected filters.

Questions? Comments? Chat or email support@happysignals.com