This release is dedicated to co-design and feedback :)
Experimental features
New section in the platform where we offer the possibility for our customers to try out new features which are still under development.
The section can be found from the user menu in the top right corner, by clicking "Experimental Features".
Experimental Features section will only be visible if a user has been granted access to it by their Customer Success Manager.
Experimental Features section lists all available features, which can be opted in or out of by user
Section also includes a possibility to give feedback about the experimental feature(s) activated. Your feedback is valued very much by HappySignals, so that we can improve the service.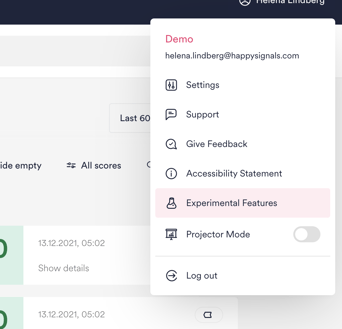 Give feedback about HappySignals
Possibility to give feedback at any time - now with new and improved UI
Found in right top corner user menu

Open text search tool added for Feedbacks, in addition to filters
Filter bar search focuses now on filters only, no open text search
Open text search added as separate element on Feedback page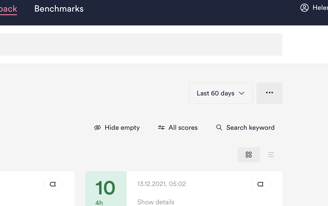 .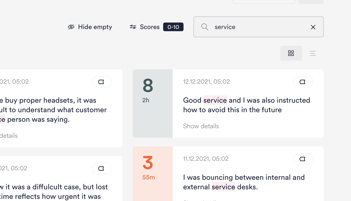 Other small improvements
Search word is now deleted from Filter bar after clicking outside search result listing.
Feedback page Score range is now hidden when scores are included as filters in Filter bar