New and Updated Features for HappySignals Experience Management Platform
Filtering Responses by ESM
We are introducing the ability to filter the data by your selected Enterprise Service Management (ESM) areas, resulting also in improved performance.
Effect on Dashboard View
The new ESM toggle above the QuickSignal widgets will filter the dashboard data and corresponding reports for easier navigation. ESM selection will also follow to Reports and Feedback pages.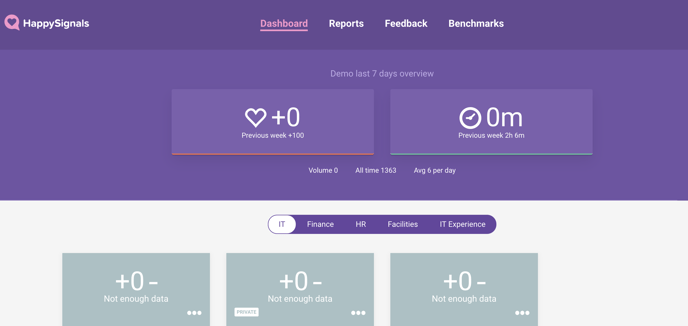 Effect on QuickSignal Links
QuickSignal links are updated to include ESM and ticket type information. This means that all QuickSignal links will change automatically.
If you try to access your previously bookmarked QuickSignal links, you will get the following error message with a redirect link to your QuickSignal. However, this redirect will be removed eventually, so please remember to update your bookmarked QuickSignals with the new links.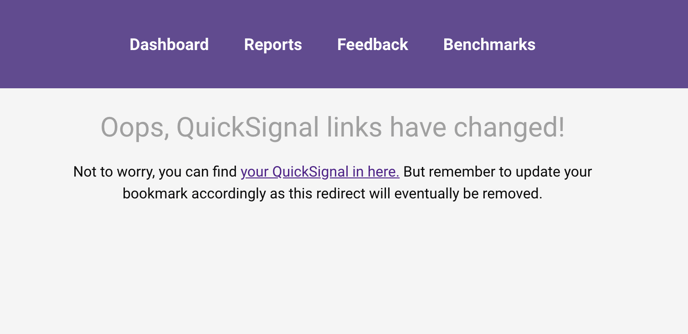 Activity Log Complemented with Information about Downloads
Activity log will now capture information about report and member list downloads. All users can download data from the reports, and admin users can in addition download the member list and the activity log itself. Downloading reports and member lists will leave a trace in the activity log.
Accessibility Issues in Feedback Form Fixed
We have fixed most of the reported accessibility issues with our Survey Forms, enabling better usability for users with screen readers. We will implement further minor changes later in 2021.
Accessibility Statement for HappySignals Now Available
HappySignals is committed to ensuring digital accessibility for all our users. We are continually improving the user experience for everyone, and applying the relevant accessibility standards for HappySignals Experience Management Platform. You can find a link to our Accessibility Statement in the main menu of the platform, and in the footer of the Survey Form.
You can also find the Accessibility Statement here.
Other Changes
The release includes some technical enhancements in addition to the above mentioned updates.