Measure experiences across all IT touchpoints to get a complete view of the experiences your end-users are having.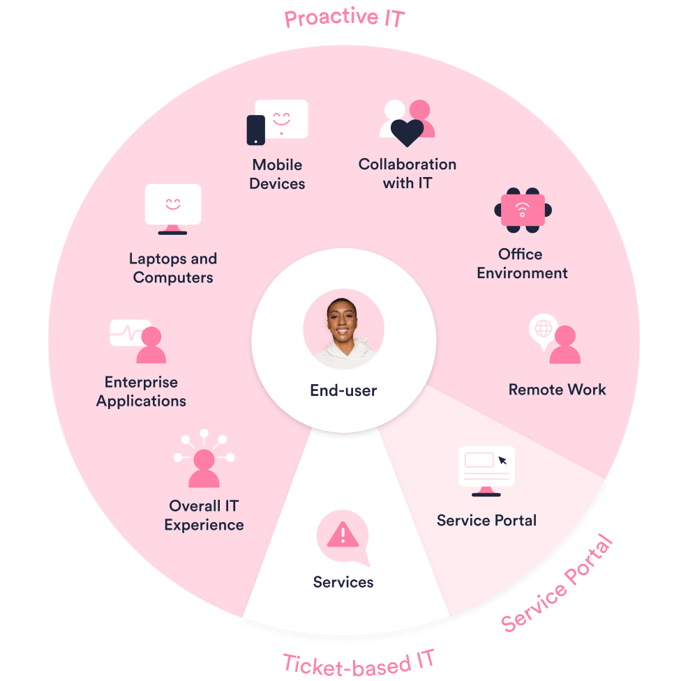 HappySignals enables measuring experiences across different IT touchpoints
They include: Services, Enterprise Applications, Laptops and Computers, Mobile Devices, Remote Work, Office Environment, Collaboration with IT, Service Portal, and Overall IT Experience.
Why are some measurement areas not activated?
If you are not seeing data for a specific measurement area, it means that your organization has not yet purchased the license for measuring those measurement areas.


Why should you activate additional measurement areas?
End-users experience IT holistically across both ticket-based and proactive touchpoints. Measure different areas to get a more complete picture of end-user experience!
If you're only measuring Services with ticket-based surveys, note also that the end-users who raise tickets may only represent a vocal minority. Reach out to the silent majority by measuring other proactive IT areas like Enterprise Applications, Remote Work, etc with proactive surveys.
How can you activate new measurement areas?
Activating the additional measurement areas is easy! Simply contact your dedicated Customer Success Manager at HappySignals to find out more.